Scroll down for Current Show and Reservations *** Scroll down for Current Show and Reservations
Scroll down for Current Show and Reservations *** Scroll down for Current Show and Reservations
Hollidaysburg Planetarium REQUIRED Reservations
These are one-hour shows - NO late entry
Use the covered Auditorium Entrance (scroll down for maps)
Face covering is required to enter the building
Doors open 30 minutes before the show
Tickets are $4 for Adults
& $3 for Students.
Pay at the Door (Cash or Check)
Minimum suggested age is 5 years old for all these family shows
Scroll to Bottom of Page for Maps
Below are the yellow areas to reserve spaces for Wed., 12/8 6 PM Cosmic Christmas 7 PM Earth, Moon, & Sun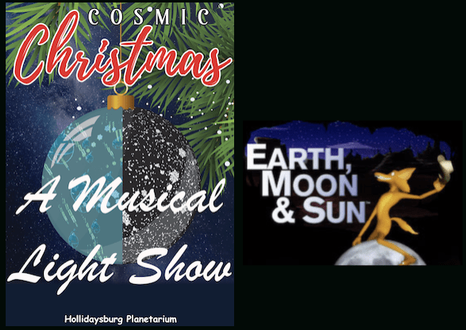 Below are the red areas to reserve spaces for Fri., 12/10 6 PM Earth, Moon, & Sun
7 PM Cosmic Christmas 8 PM The Star of Bethlehem
Below are the orange areas to reserve spaces for Sat., 12/11
Noon Star of Bethlehem
1 PM Cosmic Christmas
2 PM Earth, Sun, & Moon
All item are NEW. They all have been DONATED to raise funds for the shows we present to classes and the public.
Our tables are open to the public (Planetarium Tickets do NOT have to be purchased) Wednesday, 12/8 from 5:30 PM - 7 PM Friday, 12/10 from 5:30 PM to 8 PM Saturday, 12/11 from 11:30 PM to 2 PM
'Cosmic Christmas' is a musical light show. Wonderful for the entire family! This is a medley of a dozen songs by a variety of artists from Maria Carey and Destiny's Child to Paul McCartney and Bing Crosby. Old songs and artists, kid's songs, and new Christmas songs. This full dome show is a unique experience for our area because it features great Christmas music with a full dome light show set to the music. A unique experience for you and your family.
About: The Star of Bethlehem
The Star of Bethlehem takes us back to the little town of Bethlehem of long ago where the birth of Jesus was announced to the humble shepherds by a multitude of the heavenly host and to the people of Israel by the arrival of the Wise Men. Guided by the light of the star that they saw in the east they traveled far from their lands to come and worship him.
In our endeavor to investigate what this star might have been, we present all the historical and scientific facts we have today in order to unravel this 2,000-year old enigma in a special audiovisual show that fills the audience with a sense of wonder and an air of innocence.
About: Earth, Moon, and Sun
This planetarium show explores the relationship between Earth, Moon and Sun with the help of Coyote, an amusing character adapted from Native American oral traditions. Coyote has many misconceptions about our home planet and its most familiar neighbors. His confusion about the universe makes viewers think about how Earth, Moon and Sun work together as a system and learn to distinguish between myths and science.
Hollidaysburg Planetarium at
Hollidaysburg Senior High School
1510 North Montgomery Street,
Hollidaysburg, PA 16648